Apologies are in order - sorry for the brief hiatus! I recently joined up with an amazing group of party people over at the Children's Party Network...please check it out when you have a chance.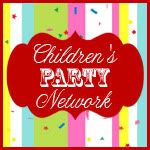 CPN is hosting an East Coast/West Coast Tablescape challenge that I am participating in, and I've spent the last week prepping for it. I'm honored to be representing the East - we're keeping all of the details about our tablescape hush hush so that the West Coast crew won't get too scared! I can't wait to show off some of the items I created, but until that time it's back to Halloween.
A few weeks ago I created some
Halloween-themed plates
and I've been thinking about other plate designs ever since. So here are some additional picnic plates that you can easily construct for a Halloween party.
Flying Bats
The Monster
A Tombstone
All you need to create these are paper plates, foam paper and hot glue. Hope you try making some of them - drop me a line if you do!